2.Yellowstone
Forrie J. Smith Once Had A Freak-Out On Yellowstone Over A Cowboy Hat On A Bed
When Jimmy (Jefferson White) comes to live and work on the Dutton Ranch in Season 1 of "Yellowstone," he suddenly learns about a popular cowboy superstition that, to him, seems silly: You never put a cowboy hat on a bed. This is a very popular superstition that persists to this day. For some, the rule applies to all hats, not merely hats in the style traditionally associated with cowboys.
It's unclear where the superstition started, but one theory is that some people believed that evil spirits lived in people's hair and they would be released if the hat was set on a bed. As it turns out, what some folks thought was evil spirits turned out to be static electricity that built up until they took their hats off. A non-mystical reason to keep hats away from beds was, at one point in history, it was correctly believed that placing a hat on a bed would spread lice from the hat to the bed. While modern bathing practices may have made lice less prevalent, the superstition remains.
This belief apparently goes all the way to the top on the Yellowst one Ranch, as evidenced by the Season 2 episode "New Beginnings" when John Dutton (Kevin Costner) is about to leave the hospital and a doctor stops him before he leaves to check his sutures. The doctor tells John that it will be quick, and he can just put his hat on the bed, to which John replies "No I can't." Cowboys of all types seem to share this belief, and one cowboy in the show's cast was especially upset when someone on set forgot about the rule of never putting a hat on a bed.
Jefferson White once took the blame for putting a hat on a bed to calm down Forrie J. Smith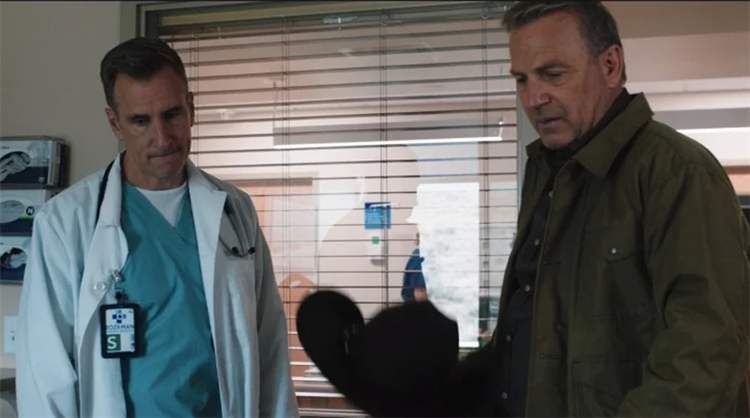 In an interview with US Weekly, Jefferson White told a story about an incident where someone put a cowboy hat down on a bed and Forrie J. Smith, who plays Lloyd on the show, had an absolute fit over it. White — knowing that Smith would be more forgiving towards him than anyone else — took the blame for putting the hat down on the bed so that Smith might chill out about it. White never found out who actually made the cardinal mistake of setting a hat down on a bed, but Smith didn't have an issue believing the transgression was all White's doing. It seems that their real-life relationship is similar to that of their characters, with White telling US Weekly that Smith generally forgives him for being such a "goofball."
It's hardly surprising that Smith was the one to have the freak out over the hat, as the actor is a real cowboy through and through. According to an interview Smith did with Scott Breen, he started out in rodeos and was eventually convinced by his friends to try his hand at acting. So, Smith came to the series with all of his cowboy traditions intact. It's unlikely that whoever put a hat on a bed on the set of "Yellowstone" will make that mistake again.