Yellowstone
"Shocking: Yellowstone Star Jefferson White Bears Permanent Show Scars on Surprising Body Part"
Although most of the action you see in Taylor Sheridan's "Yellowstone" is handled by stunt performers, that doesn't mean the actors have an easy time working on the Dutton ranch. Indeed, simply being added to the cast of "Yellowstone" means you earn a one-way ticket to the infamous "Cowboy Camp" — a rigorous training program designed to prepare every actor for horseback riding and the physical toll of life on the ranch.
Considering the inherently dangerous nature of working with unpredictable live animals, it's no wonder why Sheridan and company want the cast to be prepared for the risks of the cowboy lifestyle — though accidents do still occur every now and again. There have been plenty of near-misses behind the scenes of "Yellowstone," including an incident when a runaway bull hit a stunt woman and broke a camera. In fact, according to actor Jefferson White, his work on "Yellowstone" has left him some permanent (and very embarrassing) scars from his time riding a horse.
Jefferson White has scars on his buttcheeks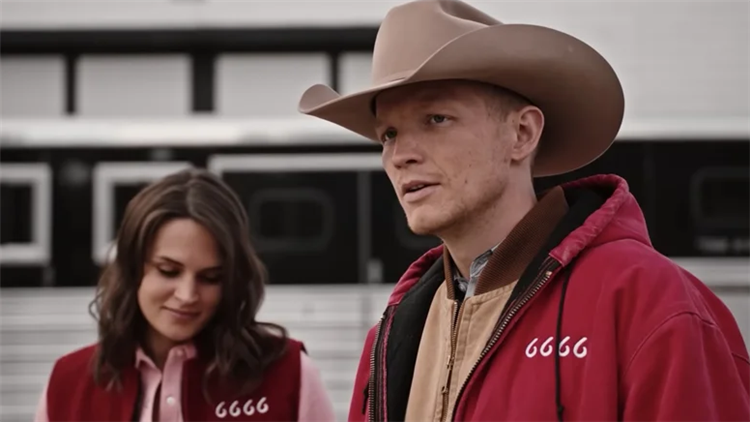 During an interview with Entertainment Tonight in which he discussed the gruesome injuries of his character, ranch hand Jimmy Hurdstrom, actor Jefferson White revealed that he was left with permanent scarring due to his time riding horses — scarring which is unfortunately located on his butt.
"I've got some permanent scars, just a little bit T.M.I., on the inside of my butt cheeks," White explained. "There's a kind of, what do they call them, Rorschach inkblot of scars that will probably never heal. Other than that I've been very lucky." White later clarified that he believes the scars occurred because he was the newest to horseback riding out of the entire cast, which is why the rest of the actors did not suffer similar injuries.
Hilariously, White also revealed that the scars are actually very similar to the Dutton brand that his character received on his chest: saying that they appear in a "Y" shape through his buttocks. Although it's certainly ironic that White has received his own form of Dutton "brand" from the series, it's still extremely unfortunate that his time on horseback has left him with permanent marks for the rest of his life.